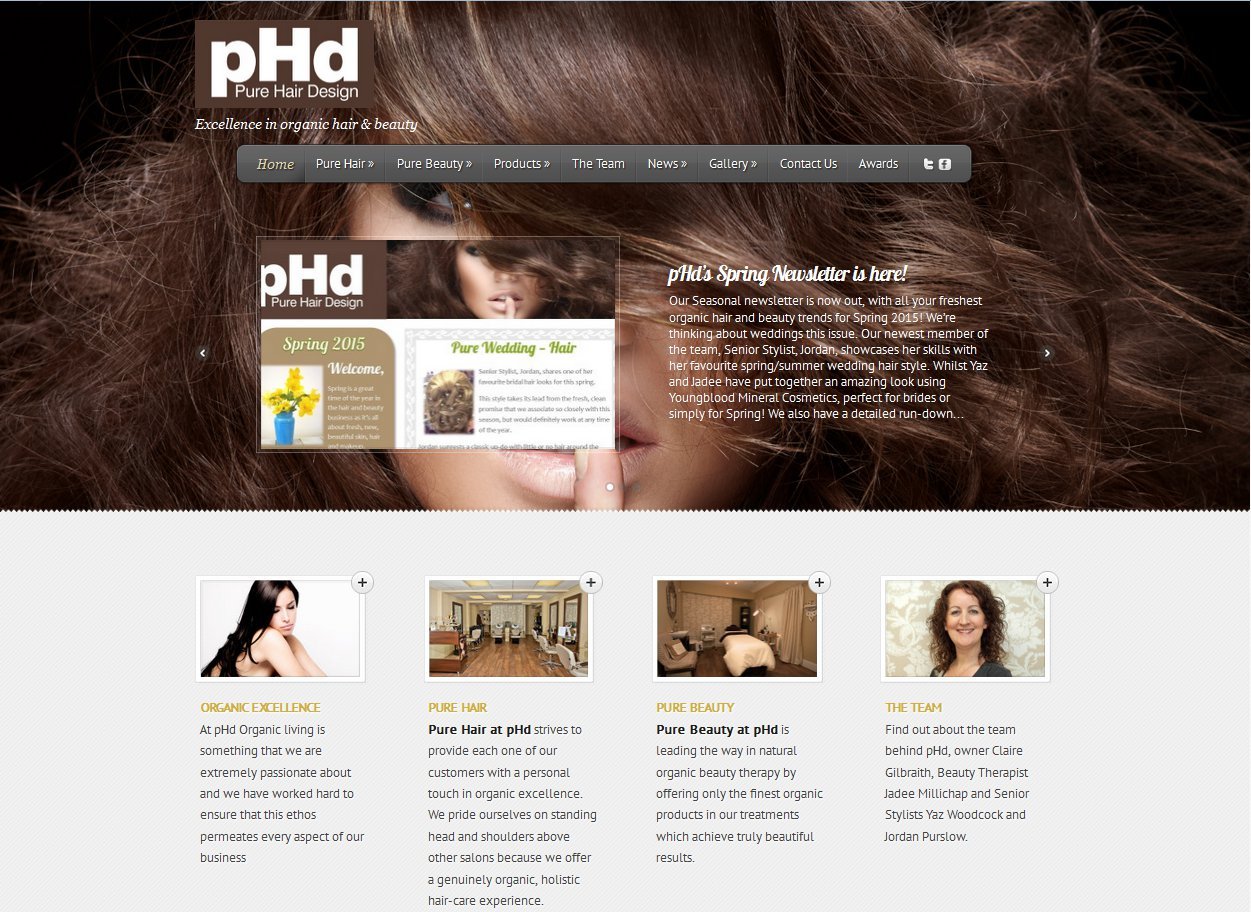 pHd Malvern Hair and Beauty
The Challenge
Design a website that acts as both a marketing and awareness raising portal for current and future customers of Organic hair and beauty salon, pHd Malvern.
The team at pHd are passionate about organic hair and beauty. So passionate that when owner, Claire Gilbraith, had the shop decorated she used organic equipment wherever possible. They share a deep belief in all things organic and work hard to bring the best quality organic products to clients.
Hair and beauty is a very competitive market and pHd is up against many local hairdressers but their unique selling point is that they're the only truly organic salon in the region.
The website needed to reflect this and the team's passion for organics, hairdressing and beauty. The website needed to raise the profile of pHd in the area, help to educate and inform casual passersby of the benefits of organic products, whilst providing an ongoing resource for existing clients on the latest salon and organics news.
The Solution
I wanted to create a website that was visually striking as hair and beauty is so often about strong imagery. At the same time I wanted to echo the feelings of warmth, luxury and organic well-being that clients enjoy in the salon. To cement and strengthen pHd's branding it was important that the site's look and feel reflects the physical surroundings and experience of a visit to the salon.
The website is an extension of the relationship pHd builds with their clients. Content copy is conversational tone and the site navigation echoes that friendly, informative feel. Browsing the website should feel intuitive and relaxed, like a chat with the team.
The pHd team are extremely passionate about organic hair and beauty and it is important that the website echoes these sentiments. To this end it is not simply a marketing device, but also an informative and educational portal for visitors to learn about the benefits of organic well-being. The focus is very much on copy, supported and enhanced through the use of strong visuals.
The news stories take prominence on the front page, allowing regular clients to easily access the latest organic information, offers, hints and tips. Key sections can also be accessed from beneath the news carousel whilst the site can be easily explored via a menu which appears at the top of every page.
Interested In Working With Me?